There have been some excellent basketball teams in Kansas City, Kan., since 2000. Sumner Academy's won three state titles during that time span, lost another two in the 4A final.

Schlagle and Washington have each lost championship games and even Piper finished fourth in a 4A tournament.

What are the 10 best teams the city has had since 2000?

Here is just one man's opinion.

-----


Sumner Academy Sabre Jeff Hawkins
10. 2006-07 Piper Pirates (20-6, Fourth Place Finish in 4A)
Former Pirates head coach David Hall had some great teams at Piper. Leo Lyons even made a guest appearance.
However, this was his best.
Austin Bond, E.J. James and Nate Daniels led a solid three-headed attack for the Pirates all year. After a bit of a slow start, they really got going and defeated Baldwin by two points in the sub-state final.
Entering the state tournament 19-4, Piper would advance through the second round, but lose both that game in the third place game to finish 20-6. Still a great run that hasn't been accomplished at Piper in some time.
-----
9. 2003-04 Sumner Academy Sabres (23-3, Third Place Finish in 4A)
This is the start of a pattern of great Sumner Academy teams dominating this list. It's tough to distinguish some of the teams apart, but let me give a shot.
It's also the first team of the Caleb Mills-Ryan Spearman nucleus of talent. Sumner, after losing an early game, flat out dominated when spring time hit.
They won some tough league games, but ran into a great Fort Scott team in the second round of the 4A state tournament.
-----
8. 2010-11 Sumner Academy Sabres (23-3, State Champions in 4A)
If there's such a thing as an over-achieving state championship team, it's this one.
Having them this low on this list might be controversial, but them winning the state championship speaks well of the hearts of Benny Parker, Eli Alexander, Vernon Vaughn and Marcus Allen.
They came together and played their best basketball down the road to win a second straight state title. This Sumner team, however, is below some other Sabres teams because they were not as dominant. They did not win league and lost three league games.
They were a team full of heart and leadership from guys like Parker and Alexander, though, and that was enough when the 4A state tournament came along.
-----
7. 2004-05 Sumner Academy Sabres (23-3, Second Place in 4A)
Hey, another great Sabres team!
Before losing the state title game to Fort Scott, this Sumner team had a 19-game winning streak and picked up after a slow start.
This team had four very reliable scorers – Caleb Mills, Ryan Spearman, Joe Hutchingson and Jamel Blount all had multiple games in double figures. They defeated Hogan Prep twice, including a 34-point victory.
They lost just one league game by one point.
It was legendary head coach Randy Spring's last great team at Sumner Academy. However, his final team consisting of a very young core of players named Reese Holliday, Davonte Chaney, Neil Watson and veterans Brian Johnson (he was a junior) and Stan Parker helped pave the way for future runs.
-----
Harmon guard Jauan Wilson
6. 2009-10 Harmon Hawks (18-4, Sub-State Runner-Ups in 5A)
This team was the only one on this list to not get to state, but they were a great team and one that grew over the year.
It was Harmon's best season since 1990 and all four losses came to great teams. – two state champions in Kearney and Sumner Academy, a third-place 5A finisher in Gardner-Edgerton and to Washington, a team that caught fire late in the year.
Harmon's team included the very underrated De'Ontae Hooks, who became a force both offensively and defensively. Jauan Wilson, Jordan Horn and Exavier Bass-Brooks led a group of good guards and James Davenport was the big man inside.
Ron Stallings and John Zeno provided good character and hard-work to that team as they split playing time.
Among their great victories that year was snapping Sumner Academy's 23-game winning streak in the Kansas City Kansas League.
Harmon not getting to the state tournament speaks about how loaded 5A basketball is in Kansas, a theme that you will see in the Top 2.
-----
5. 2009-10 Sumner Academy Sabres (23-3, State Champions in 4A)
This team had a little bit of it all and was on a mission all year.
Led by Reese Holliday, this team was the one that finished the job at Sumner Academy after years of disappointment since their previous state championship in 2000.
They conquered virtually all of the best teams in 4A and throttled a good Ottawa team in the state title game.
Along with Holliday, Sumner was led by guards Benny Parker and Davonte Chaney. Anthony White and Eli Alexander provided a heavy hand inside and dominated the boards in the state tournament.
The Sabres also came very close to defeating the 25-0 Bishop Miege Stags, who eventually went on and won the state championship in 5A that season.
-----
4. 2008-09 Sumner Academy Sabres (21-3, First Round of State Tournament)
Call me a sucker, but this team was the better one over the two state championship teams.
You had two studs in Neil Watson and Reese Holliday providing a great inside-outside game for Sumner Academy. You also had Benny Parker starting as a freshman and Eli Alexander starting as a sophomore.
Davonte Chaney also provided great minutes that year and was the best defensive player in the Kansas City Kansas League.
This is one of those great teams that deserved a state title, but bad luck and cold shooting sunk the Sabres against Topeka-Hayden in the first round.
Before the state tournament, they had dominated the KCK League, winning each game on average by over 20 points.
-----
3. 1999-2000 Sumner Academy Sabres (22-4, State Champions in 4A)
Like the Watson-Holliday connection in those later teams, Sumner Academy had an outstanding balance in Jeff Hawkins and Brandon Lipsey.
Hawkins eventually ended up playing for the Kansas Jayhawks, while Lipsey played for the UMKC Kangaroos.
Ben Richardson and Raymond Hicks provided valuable minutes to that Sabres team as well.
A great state tournament by Hawkins solidified his place in Sumner Academy history, become one of the few players to win multiple state championships.
He won a state title in his freshman year in 1998.
Sumner won a brutal Huron League that season (Atchison, Bonner Springs, Ottawa, Bishop Ward were all respectable) and became the third team in Sumner history to win a state title.
-----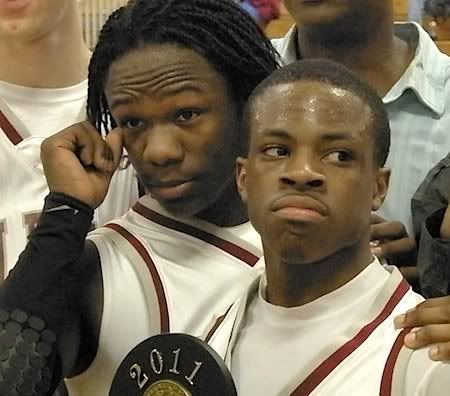 Tra'Vaughn White and Jervon Hooks
2. 2010-11 Washington Wildcats (22-3, State Runner-Up in 5A)
This team was pure joy to cover and watch during the 2010-11 season.
They had talent – five of the seniors on that team signed college scholarships with either Division 1 programs and junior colleges. They had heart – they overcame seven double-digit deficits in the second half to eventually win. They had character – many of the players achieved very well academically.
They fought and earned everything they achieved. They went 10-0 against the best Kansas City Kansas – Atchison League's collection of teams since 2000.
Tra'Vaughn White won several awards, including
The Kansas City Star's
Player of the Year award. Along with White, the Hibler Twins (Michael and Myles), Jervon Hooks, Kalen Allen and junior Rakim McCoy formed a great Top 6 rotation.
Somehow, someway this team always found a way to win.
They came 11 points away and a God-awful officiating crew away in the state title game of upsetting McPherson.
Washington not winning the state title shows how (again) unfair and tough 5A basketball can be.
This was a special team and even if Washington cracks through and wins a state title soon, they'll never be replaced.
-----
1. 1999-2000 Schlagle Stallions (24-1, State Runner-Up in 5A)
It's borderline tragic that this team did not win the state title that year.
Entering the state tournament title game that year, Schlagle was 24-0 and won each game by an average of 21 points. They scored an average of 71 points each night out and held the competition to under 50 points.
They destroyed the eventual 4A champs from Sumner Academy by double digits.
Malcolm Campbell, Joe Webb and Antoine Tisby provided a scary triple attack on offense. Webb was a 6-6 GUARD, while Tisby dominated inside at 6-7.
All three of those players averaged over 11 points that season.
But in the state title game against Shawnee Heights, Schlagle was upset 48-47.
Campbell, Webb and Tisby were all selected to the all-state team.
Honestly, if somehow these teams could play at their peak, I would take Schlagle and 14 points over any of them.
With all due respect to the nine other teams, they did not compare to how great Schlagle was that season.