By NICK SLOAN, NJSloan212@gmail.com

Though we generally dedicate KCK Preps to athletes in Kansas City, Kan., and the Kaw Valley League, being a high school basketball junkie, it's tough for me not to write on the sport.

That said, each weekend, I'll be posting an "Around the Metro" column about high school basketball in Kansas City. I read a ton of stories and check out the MaxPreps pages of the teams who do them to see which players are standing out.

Plus, as a voter for 810 WHB's metro-wide poll, I need to start educating myself about Missouri basketball very quickly. This gives me an opportunity to do that.

Here's what is on my mind this week:


Semi Ojeleye, Ottawa Cyclones
- Ottawa dominates fellow 4A power St. James Academy.
Ottawa handled St. James Academy 62-44 Friday night at home. The Cyclones were impressive and while St. James Academy's Clint McCullough scored 21 points, his teammates could just score 23 points. McCullough was the best player for the Thunder, but the best player on the court Friday night was Semi Ojeleye, a major Division 1 stud. Ojeleye, who's received offers from both Kansas State and Missouri, had 36 points Friday night. The most impressive item may have been Ottawa's defense, which gets criticized quite a bit by fans. They held the Thunder to just 44 points.
- KCK continues its recent wave of success against Kansas City, Mo., powers.
Sumner Academy's four-point win in overtime against highly-ranked Hogan Prep suggests the Sabres should remain the favorite to win the 4A title for the third-straight year. Marcus Allen's 31-point game was awesome and he entered himself into the KCK Preps Player of the Year competition with that outing. Benny Parker's 28 points were all but expected in game where a high-pace of play was guaranteed. Still, that victory continues a recent wave of momentum for KCK basketball over KCMO basketball. Last year, Sumner Academy defeated Raytown South and Lincoln Prep in two fun basketball games. Washington owned Kansas City, Mo., basketball - defeating Raytown South and future state-title winners from Hogan Prep in two of the best games of the 2010-11 season. Though KCMO will always be deeper than KCK in basketball, the Sabres and Wildcats have given KCK plenty to be proud about over the past two years in basketball. The bragging rights are also nice.
- Basehor-Linwood, Lansing live up to hype in first week.
Both Basehor and Lansing earned 35-point victories against Kaw Valley League competition this week. While Tonganoxie and Bishop Ward may not be strong contenders this year, 35-point blowouts are statement wins. Ryan Murphy, Colin Murphy and Ben Johnson combined for 47 points for the Bobcats and demonstrated why I think they are the best 1-2-3 punch in the Kaw Valley League. Lansing was led by Izaiah Grice's 16 points, but 10 different Lions scored and displayed the depth they are expected to have this year. The Basehor-Lansing games should be excellent this year and both teams are among the best three teams in their respective classes.
Clayton Custer, Blue Valley Northwest














- Blue Valley Northwest impressive in 29-point win against Harmon.
Now, Harmon was without a few of their good players Friday night. Still, it's a bit of a rebuilding year for the Huskies, who lost EKL Player of the Year Brett Fisher, Morgan Smith and George Bugarinovic from last year's team due to graduation. Clayton Custer's 26 point night led the way against the Hawks and it looks as if BVNW will have another good year at the 6A level. Who knows what to make of Harmon. Despite having some good players out, a 30-point loss on the road to a rebuilding Huskies team was not ideal.
- 4A teams impressive early on.
Earlier this week, I touched on the 4A basketball class in Kansas. So far, the typical powers look strong. Sumner Academy, Ottawa and Basehor look like strong competitors for that state title.
- Staying on the Kansas side, Blue Valley North displayed excellent balance in their 70-60 win over Olathe East.
Both teams were in the preseason Top 10 in the 810 Varsity poll. Erik Higginbotham led the team with 13 points, while Connor Erikson and Conner Crooker both scored 12 points. Jawan Emery added 10 for the Mustangs. Scott Edwards, who was on the All-EKL Basketball Team last year, was held to 8 points, but is expected to have another big year for Blue Valley North.
- On the Missouri side, O'Hara senior big man Daniel Hurtt is quickly building himself a nice resume as a DiRenna Award candidate.
While the Celtics competition hasn't been exactly murder's row (more like a fairground's row of shooting ducks), Hurtt is off to a very good start. He's averaging 29 points a game so far this season. On Friday against Pembroke Hill, Hurtt had 37 points and 19 rebounds. That's a good line against anyone. Hurtt was overshadowed by guys like D.J. Jackson last year, but he's the undisputed leader of the team this year. Look for "The Big Hurtt" to have a big year.
- Hogan Prep won't have too much time to heal after a loss against Sumner Academy.
Hogan Prep is still one of the top five teams in the metro area despite the loss. Hogan should hammer Wyandotte in the opening round of the Leavenworth tournament next week, but possible showdowns against Highland Park, Washington or Raytown South loom later on in the tournament. Hogan Prep has an opportunity to redeem themselves after a tough loss to the Sabres. The Rams are probably the favorite entering the tournament, but Sumner Academy proved they are vulnerable. Alex Garvin and Deon Tripp's 24 combined points in their true varsity starting debuts should be inspiration for Washington's young group of guys.
- Deron Hill impressive as Ruskin earns two overtime wins.
Ruskin defeated Grandview 83-82 on the road to start the season and defeated Lee's Summit 74-72 Friday night, both in overtime. The story for the team so far is the performance of Hill. Hill put up 44 points and 8 assists in the victory against Grandview, a game featuring two of the Top 25 teams in the 810 Varsity poll. He "only" scored 16 points against Lee's Summit, but is averaging 30 points on the dot. For those wanting a rematch between Ruskin and Grandview, it's possible. Both teams are in the Raymore-Peculiar Tournament next week and could face each other in the title game on December 9.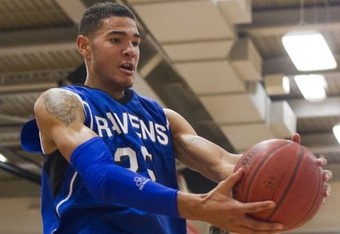 Willie Cauley, Olathe Northwest
- Lee's Summit North starts season with two big blowout victories.
The deep and balanced Broncos defeated Northeast 74-52 to begin the season on Nov. 29 and handled Lincoln Prep 55-26. The Broncos held Lincoln Prep to just six points in the first half and played suffocating defense all night long. So far, five players are averaging at least six points a game. Will Harrington and Tory Miller will likely be the one-two punch during the season. Miller's 6'8" frame will be difficult to defend.
- Some big boys roll the ball out for the first time this season in meaningful games.
Rockhurst and Blue Springs South will compete in the Blue Springs Tournament. Both teams could do significant damage at their class level this year in Missouri, with Rockhurst bringing back a ton of experience this season. On the Kansas side, the top-ranked Olathe Northwest squad led by future Kentucky Wildcat Willie Cauley will start their season in the Blue Valley Shootout. The Ravens and Sumner Academy could very well meet in the title game. In KCK, Washington and Schlagle will begin their quest for a state tournament birth in Kansas 5A. Questions surround Dominique Wilson's availability this year for the Wildcats. If he's available, look out. If not, look for some growing pains this year early on for Washington. Schlagle's threesome of guards with Davante Clark, Houston Shackelford and D.J. Sayles could give the Stallions a nice chance for a good season. Washington will play in the always stacked Leavenworth Tournament, while Schlagle begins their season against Piper.