By NICK SLOAN
,
NJSloan212@gmail.com
First, let me offer the Kansas Jayhawks nation healthy and hearty congratulations for your comeback victory against the Missouri Tigers today.
Eliminating a 19-point lead is very impressive, even if it came after Conner Teahen inexplicably hit four-of-four from the three-point line and half of Mizzou's rotation had four fouls through the first 33 minutes of the game. Even Jay Bilas and Jason Whitlock were critical of the officiating.
Still, a win's a win and I have to tip my cap.
Eight straight conference titles is something worth bragging about. Winning your 1,000th conference game this year was another special milestone. You clearly are the class of the Big 12 and it's a lot to be proud of, that is, until a portion of your fan-base wants Bill Self fired after a tournament failure.
Because of that, I'm offering my KU readers a gift from the heart – a special guide that will help you keep an eye on those tricky mid-majors that could upset you come March.
Let's face it – as good as you've dominated the Big 12 and even with that national title, the Kansas Jayhawks basketball program still has some very ugly losses in March the past seven years.
In 2005, KU was a 13.5-point favorite to take care of Bucknell. They lost. A year after that, they were 7-point favorites to beat a game Bradley team. Bradley won by four.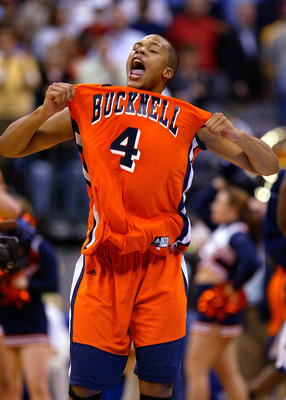 After a national title temporarily relieved the mid-major stings, the Jayhawks have been reminded that those teams can be tricky.
An 11-point underdog Northern Iowa club defeated the top-seeded Jayhawks in the second round in 2010 and VCU defeated KU in the Elite Eight by 10 points after being 11.5-point underdogs.
Outside of increasing media coverage and the scholarship limit, nothing has been better for mid-majors the best decade or two than the Kansas Jayhawks.
(Yes, I know Missouri has never made a Final Four. Yes, I know KU has won a lot of games against Missouri.)
Here are five mid-majors my friends for KU should keep an eye on as Greg Gumble, Greg Anthony and Seth Davis announce those brackets two Sundays from now.
1. Belmont Bruins:
The Bruins are third in the nation in total offense with 82.7 points a game, fourth in assists and 11th in the nation in three-point shooting. VCU and Northern Iowa made a ton of three-pointers to bring down KU in those games and Belmont is a quick team that likes to push it like the Tigers do. Keron Johnson is the best player for Belmont, averaging around 14 points and 5 rebounds a game. Belmont barely lost to a good Duke team on the road by just one point.
2. Bucknell Bison:
Remember them, my crimson and blue friends? They're currently being slotted as a 15-seed in most brackets, so they could easily play KU in the first round. There's past history, obviously. At the same time, though, they're a decent team. They've played Syracuse, a team much more athletic than KU. They also shoot 39 percent from three – and again, the three-point line has been a common theme in these upsets. Mike Muscala averages 16.6 points and 9.2 points a game. Bucknell has five starters that average between 7 points and 16 points a game. (By the way, if you notice, both the first two teams have that whole "Killer B's" deal.)
3. Drexel Dragons:
Drexel is in the same conference of VCU and George Mason, two recent teams that surprised the world to get into the Final Four. The Colonial has three teams with 23 wins or more, which is pretty good for a mid-major conference. Drexel is good at controlling their own pace of the game and could get KU into a drag-down game. They rebound well, with two players averaging seven or more. Drexel shoots 38 percent from three and Frantz Massenat, their leading scorer, shoots 47 percent from three. Drexel could finish the regular season with 28 to 30 wins, too.
4. Iona Gaels:
This is another team that can score and it has some nice pieces to it. They lead the nation in points and assists and are second in shooting the basketball. Sound familiar? Mike Glover averages 18.3 points a game and 9.2 rebounds, basically a double-double. Scott Machado leads the nation in assists, averaging over 10 a game. They have two players who shoot 40 percent from three – Machado and Sean Armand, who strokes it to a 47 percent shooting percentage from behind the arc. Iona is a dangerous team. This is a team like VCU – not necessarily big, but one that hustles, plays at a fast pace and one that can shoot the three. They also sound familiar to the Missouri Tigers, too.
5. Middle Tennessee Blue Raiders:
This team whipped UCLA by 20 earlier this year and while UCLA is certainly down, beating a team with UCLA's talent by 20 says a lot. They also defeated Mississippi. LaRon Dendy averages 14.7 points, 7 rebounds a game. They're a balanced team as well and one that's played pretty good competition. Look out for the Blue Raiders.
I'm not including ranked mid-majors like Wichita State, Gonzaga, Murray State or those who have been on the radar in recent years, especially Butler.
These are five teams who could beat someone good come March. Most of them can shoot the three and KU's defense has been bad in stretches this season, especially against teams with any offense whatsoever.
Watch out for them, KU fans. And really, anyone who roots for a team expecting a three or four seed.