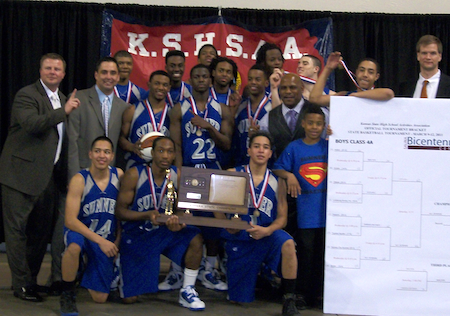 By NICK SLOAN
,
NJSloan212@gmail.com
Since 2009, the 4A state championship has been shared by Sumner Academy and Basehor-Linwood High School.
Basehor won their first title in 2009. Sumner Academy won back-to-back championships in 2010 and 2011. Basehor won the title this season.
The four titles between the two teams made me do some research on the senior classes.
This year's senior class for Sumner Academy, led by Benny Parker, Vernon Vaughn and Marcus Allen, were 86-13 as a class in basketball. The Sabres won three Kansas City Kansas League titles during their run and of course, won the two state titles.
Basehor's class, led by Ryan Murphy, Colin Murphy and Brad Waterman, won 83 games and lost just 14. They also won three league titles and those two state championships.
When you combine the records, the Sumner Academy and Basehor seniors had a 169-27 record on the court, won six league championships and won four state titles. Winning percentage wise, the two senior classes combined won 86.2 percent of their games.
The two senior classes combined for a 12-1 record in Salina as well.
That's
dominance
.
It should also be noted Sumner Academy had to beat Basehor to even get to state to win their two trophies. It's fitting both senior classes won big.
They each had their stars – Sumner with Benny Parker and Basehor with the Murphy Twins – and both had role players.
Both senior classes are filled with incredible human beings who put their teammates and other individuals above themselves when it comes to accomplishments on the court. It's no wonder how successful the basketball programs have been.
Knowing people at both Sumner Academy and Basehor, this is a healthy rivalry where the players respect each other, as well as the parents.
Dennis Murphy, the uncle of the Murphy Twins, sent me an email wondering about the condition of Vernon Vaughn when he got injured. On Twitter Saturday night, I saw Vaughn congratulate Ben Johnson and other players from the Bobcats.
Johnson's father congratulated David Brox on Vaughn's signing shortly after it happened.
These two schools respect each other and both have won big.
Congratulations to both schools on incredible accomplishments the past four years.
Outside of Perry Ellis and Wichita Heights' run, the dominance displayed at both schools is almost unmatched state-wide.