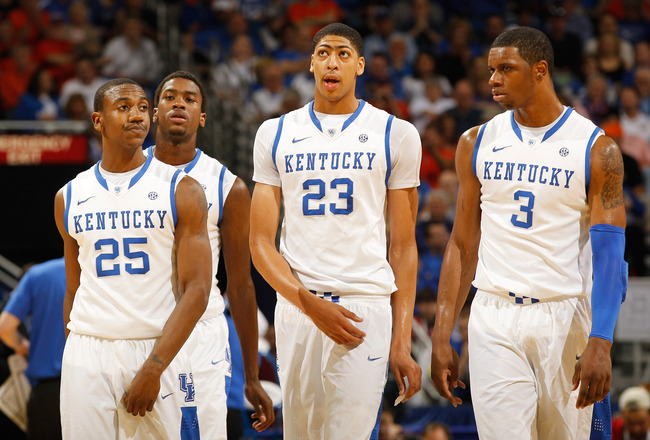 By NICK SLOAN
,
NJSloan212@gmail.com
There are great arguments in sports.
This year's MVP in the NBA is a great one. Do you go with the player who has the best statistics, as in LeBron James. Or, do you go with the player who's transformed a losing culture into a winning culture like Chris Paul has with the Los Angeles Clippers this year?
Other arguments, on the other hand, are dumb.
Here are 10 sports debates that get too much debate.
1. "The best NCAA team can beat the best NFL/NBA team"
Sorry, but no. This argument is getting some run simply because we've had a great college team this year in the Kentucky Wildcats and we've had one of the most miserable NBA teams to ever grace the planet in the 2011-12 Charlotte Bobcats. Despite how atrocious Charlotte has been this year, they would still beat Kentucky. Kentucky will have five or six NBA Draft picks this summer, but Charlotte's entire team is filled with NBA Draft picks. And odds are, a few of the Kentucky guys will be a bust. No matter how bad NBA teams are, they are more athletic and better teams than college programs are. Plus, Kentucky lost to Vanderbilt. Could you imagine an NBA team losing to Vanderbilt?
2. "Athletes and coaches are overpaid."
The argument here is usually prefaced with how low teaching salaries are (and they are low) and how athletes don't do an important job like police officers and firefighters do. But that argument completely misses the point. Here's why those salaries are justified. According to the Greater Kansas City Chamber of Commerce, each Kansas City Chiefs game at Arrowhead Stadium results in a $15 million economic impact in the community. That means the Chiefs regular season alone generates $120 million and if the Chiefs ever won a playoff game or two, the economic impact of the franchise on the city alone would be $150 million. That doesn't count the television contracts and jersey sales athletes are responsible for. Nick Saban makes a ton of money from his contract with Alabama. However, Alabama football this year generated $75 million for the entire university. I could be wrong, but I imagine Saban winning two national titles is a big reason why.
3. "Is (insert activity here) a sport?"
The debate about what is a sport and what isn't is a waste of time. My policy on this - if there's a serious debate about something being a sport, it's not a sport.
4. "This quarterback is better than that quarterback because he has more Super Bowl rings."
This one is flexible, as the same can apply to a coach or any other position player in football, basketball and even baseball. Still, it seems like quarterback debates are always centered around this question. For those who value titles - and again, they are important - answer this for me. Is it Dan Marino's fault the Dolphins never fielded a great defense when he was there and was it his fault the Dolphins only had one 1,000-yard rusher during Marino's run in Miami? Is Trent Dilfer a better quarterback than Dan Marino or Dan Fouts? No.
5. "No defense is played in the NBA."
I'm an avid NBA fan and defender. This is the biggest criticism of the NBA that I defend it from. No sport displays the athleticism of an individual like professional basketball. Players exert great effort game in and game out and they play well enough on defense. Very few teams in the league average above 100 points and some of the best offensive players in the league play pretty solid defense too.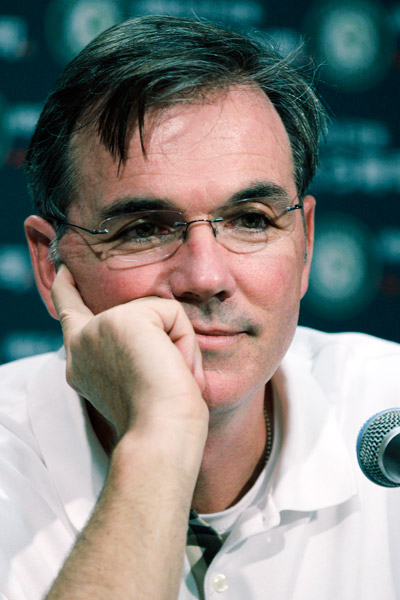 6. "Billy Beane and Moneyball are a fraud because the Oakland A's never won a World Series."
Like the NBA, I'm a supporter of Billy Beane and what he has meant for the game of baseball the past 15 years or so. And like the NBA, the need to defend Beane increases more and more each year. Yes, the A's are struggling and have since 2006-07. Yes, the A's never won a World Series with Beane as GM. However, the ideas of Moneyball helped the Boston Red Sox win two World Series and it helped the Texas Rangers win two American League pennants. Though Beane did not win a world title in Oakland, his ideas have won titles around baseball. No general manager since Branch Rickey has made the impact on baseball like Beane did 10 years ago. Speaking of Rickey, arguing that Beane's ideas failed would be like arguing Rickey's decision to integrate baseball was a failure since he didn't win a World Series in Brooklyn.
7. "The one-year rule has made college basketball and the NBA better."
Outside of those Kansas, Duke and North Carolina fans who hate Kentucky head coach John Calipari, many love the fact that high school stars cannot declare for the NBA anymore. NBA Commissioner David Stern has also said "one and done" has been good for the NBA. No, it hasn't. Look at the stars of the NBA right now. LeBron James declared directly from high school. So did Kobe Bryant, Dwight Howard and Andrew Bynum. Kevin Garnett, though not a star now, was outstanding for over a decade and he came into the league straight from high school. College basketball survived without those guys, but the NBA wouldn't be the same without them. To me, college basketball didn't suffer when high school kids were declaring and I was more interested in the NBA when high school phenoms like James went straight to the league. It's time to let the kids declare again for the NBA. Neither league would suffer.
8. "Soccer needs to work in America for it to be a big-time sport."
I love America and I think Americans get a bad name abroad. But this is one of those times when it displays the arrogance Americans have sometimes. Soccer doesn't need America. I'm sorry. Soccer does not need one fan in America for it to be a big-time, legitimate sport. Only Americans who hate soccer have this mind-set. The NFL is not popular in Europe. There are some portions of the Earth that the NBA has no chance in. Soccer may not be popular in America, but it doesn't need to be.
9. "You're a bad sports fan if you don't root for your home teams."
This one irritates me for a simple reason - it's tough for some people to claim a home city. Military families travel quite a bit. Those with travel-friendly careers are on the move a lot. Even for those born in a city, to me true fandom comes when you stick by a team. As long as you're not a bandwagon jumper, you're a good fan. Though I root for the Kansas City Royals, I feel like I have no obligation to root for other teams in the city. If fans stick with one team from the start to the end, that's good enough for me.
10. "(Insert athlete here) got snubbed out of an All-Star game."
With due respect to readers and sports fans, the yearly debates on all-star game snubs are very old. Look, the fans vote for the game. That's rude to say, but if I was a player, I would rather be voted on an Associated Press team, honored by my fellow players or honored by the league. All-Star games are worthless and don't mean much in the long-run - especially since fans control the vote.